This monster post is a bit of an experiment. I'm going to tell you what I ate for dinner each day this last week, along with roughly how I made it. I have no idea if this is how the rest of the world shop, cook and eat but let me know if this bears any resemblance to being normal. It feels a little bit like a more chaotic version of Nigel Slater and his kitchen diaries, except I bought everything from Lidl, not the farmer's market and I refuse to use the word 'envelop' in my writing. Sorry Nigel, it's just too yonnick.
I'm documenting just dinners here, because breakfast consists of dribbling into my pillow and silently cursing the alarm clock, and my lunches are erratic, inconsistent and usually unappetising. Lewis comes back home for his lunch and eats the leftovers from the night before, so at least he's happy. Oh, by the way, before anyone starts on gendered division of labour: yes, I do all the cooking, and yep, he does all the washing up. I certainly have the better end of the stick.
In this post, you can skip to each meal as you see fit. I realise asking you to read this whole thing is a bit of a task, especially if you're reading it on a phone or have better things to do. So here you go. This is what I've cooked and eaten all week.
Have fun being nosy about my life, pumpkins.
My Week In Food
Here's what I started with after raiding Lidl at 6pm last Sunday:
Sunday: Lamb Steak Wraps with homemade hummus, olive salad, and quick pickled onions (plus pie filling for Monday, plus cherry sauce and cake)
I nabbed some lamb steaks reduced to £2 for about 300g, which made me happier than it should have done in all honesty. I treat lamb in nearly the same way as beef: I like it very pink, so tend to sear it for only a minute or two on both sides before letting it rest in a foil to re-absorb all the juicy juices. To make just the two small-ish steaks go further, I decided to slice it up thinly to make up some greek-style lamb wraps, complete with homemade hummus, and olive, tomato and cucumber salad, dressed with lemon juice and EVOO. The tortillas were a leftover item from Lewis' weekend away climbing, and I made the hummus by blending a tin of chickpeas with some olive oil, a garlic clove and some tahini – you know, exactly the way you're meant to make hummus. The quick pickled onion was just half a thinly sliced red onion with a pinch of brown sugar, some salt and a splash of red wine vinegar in a ramekin. Bing bang bong. Easy.
For pudding, I had made up a quick cherry and almond layer cake which is just a normal sponge with a layer of cherry compote on the bottom. I made the cherry compote by throwing a bag of frozen cherries into a saucepan along with a couple of drops of almond essence and a few heaped tablespoons of sugar and setting it to low, leaving it to do its thing while I was doing the salady things and frying the lamb. When the cherries were looking suitably glossy and delicious, I slopped around half of it into a cake tin. Having added a drop or two of almond essence to some cake batter (1:1:1:1 ratio of eggs, SR flour, sugar, butter made in no time with the all-in-one method) I dolloped that on top of the cherries and baked it at 180 for 20 or so minutes, and ended up with a jammy bottom. Lovely. I had lots of sauce left over, so I poured it into an old pickle jar and left it to vibe in the fridge for later.
Because I knew I'd be out till 8ish Jazzing on Monday, I took the time to make filling for some mushroom and ale pies I'd been thinking about making for a week or two. That meant frying off a couple of shallots with a packet of mushrooms (roughly chopped into around 1cm bits) and a bunch of fresh thyme which had gone a bit not-fresh at the back of the fridge. When the 'shrooms were nicely brown and fragrant, I then added in around half a bottle of brown ale, a sprinkling of red lentils, and finally a tin of butter beans. Yes, had I fried the mushrooms in olive oil rather beef dripping it would have been vegan. Alas. I set that mix onto low while we had dinner.
We don't have a proper dining table, so we ate the lamb wraps DIY style on the big coffee table while watching Kevin McCloud have an orgasm over someone's new house, which was a big white box. It looked like they'd had to sell all the furniture to fund the monstrosity, but perplexingly, they seemed so delighted that the lady had even become pregnant.
When Kev had finished his spiel about the architectural blurring of lines between inside and out, and we'd had some cake and cherry sauce, I put the pie filling into a Tupperware to go in the fridge for tomorrow.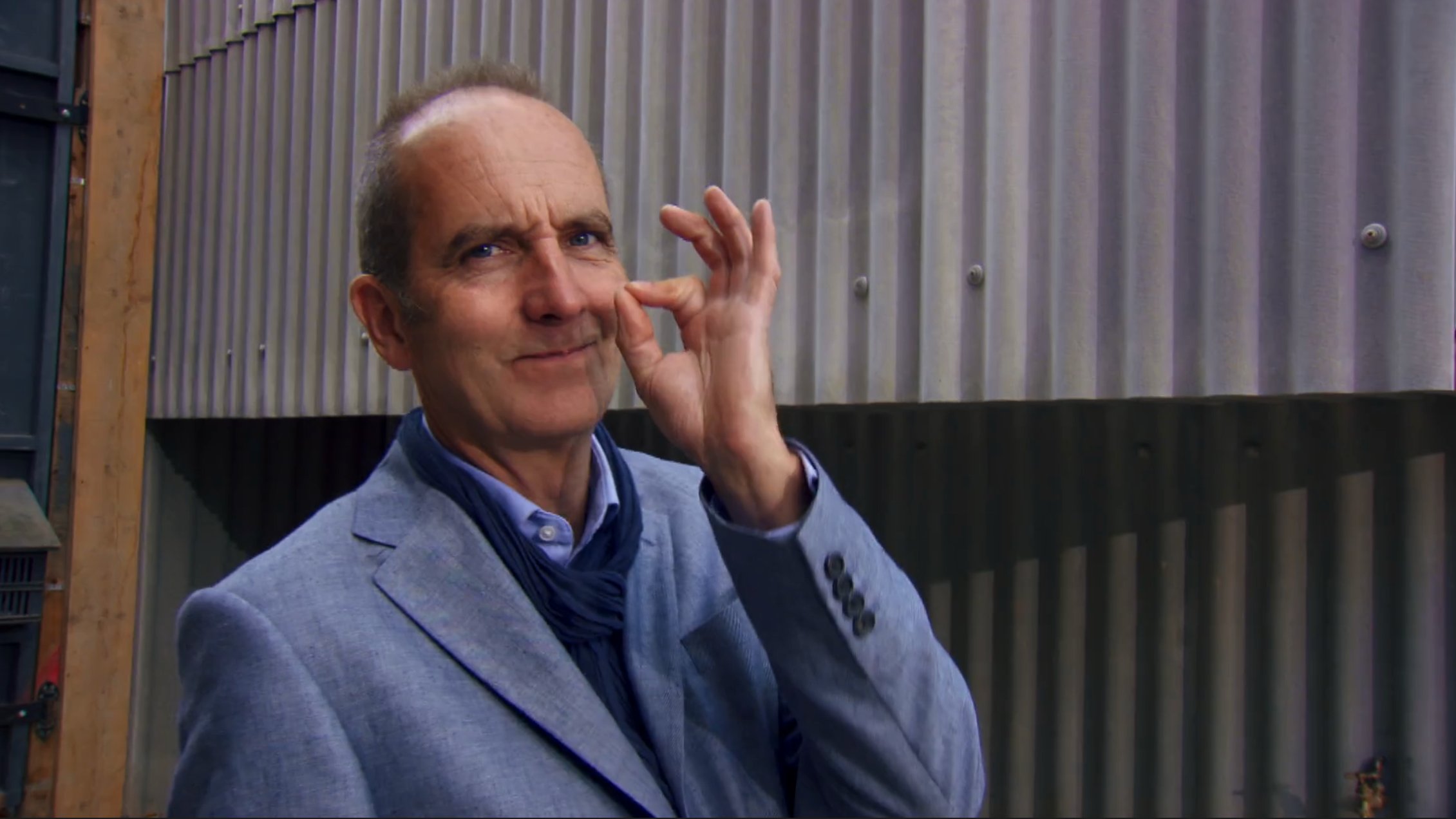 Monday: Mushroom and ale pies with buttered asparagus.
I got back from jamming at around 8pm, which meant all I needed to do was put the oven on to 200 degrees, cut out some bought puff pastry and dollop the pie filling into it. I made six mini pies in a muffin tin because they're cute, and also one bigger pie in a loaf tin, which I then decorated beautifully, as seen below. They only took around 20 minutes to cook through to a lovely Gordon Brown. To serve, I steamed a pack of asparagus in the microwave with some butter, black pepper and a squeeze of lemon. We had three wee pies each because I couldn't be bothered to make mash. Some gravy would have been good here but I didn't have any stock defrosted and I refuse to use gravy granules because they're horrible.
Tuesday: ate out, Innit
We go climbing on Tuesday evenings with some new pals from the Dundee division of the Scottish Outdoor Young Team – a sort of graduate mountaineering club set up last year by a friend of mine called Emily. After we've messed around pulling on plastic for a few hours, it's off to the pub we toddle, to eat, drink, and occasionally play aggressive board games. I had sweet potato falafels and a large glass of sauvignon, and then segualled everyone else's leftovers like the culinary pest I am.
Wednesday: Cauliflower and Cumin Soup
Last week I'd found a reduced-label bacon joint wallowing in the hot counter at ASDA for £1.68, so I bought it and then made stock from the bones and skin after I'd pillaged the meat for mustard and cheese toasties.
To make this soup, I defrosted last week's stock in the microwave and fried off some onions with some cumin seeds. I then roasted a head of cauliflower broken into florets with a good few phat cloves of garlic and more ground cumin, plus salt and olive oil. And that's where I made a mistake. Forgetting that besides anchovies, stock is one of the most marvellously salty entities on this planet, I'd darn gone and salted the cauliflower too. When I added the roasted cauliflower and garlic to the fried onions and cumin, then splashed in the stock, I realised my brackish mistake.
To rectify it, I dropped in a few potatoes cooked in the microwave for more soup volume, and poured off some of the stock and replaced it with water before blending it. Alas, t'was still too salty but luckily thick enough to be thinned down with some milk, which helped a lot. Cream would have been better but I have an irrational aversion to going back to the shops if I've already gone once. Anyway, it was still nice enough and I managed to take some to work in a box and slop half of it all over the front passenger seat of the car because the lid wasn't on properly.
Of course, if you want to make this vegan or vegetarian, don't use stock made from the bones of a pig. This would be really nice with coconut milk and turmeric too.
Thursday: sticky garlic pork mince with sweet peppers, cauliflower leaves and rice noodles
This was lovely, and took around 35 minutes from start to finish. I'd originally frozen the pork mince on Sunday due to a short use-by date, but I'd removed it from the freezer that morning and left it out to defrost all day, giving me around 8 hours to decide what to do with it.
When I got home after work, I fried it off the pork mince with garlic grated on a microplane, squeezy ginger paste, soy sauce, 5 spice and some dried chilli flakes. When it was looking more or less cooked, with all the water evaporating off and the fat rendering out, I added a couple of spoonfuls of teriyaki sauce and a drizzle of honey so it went all caramelised and sticky.
While the pork was cooking, I was not resting on my laurels – oh no, sir. I was finely slicing the leaves from the cauliflower of yesterday's soup, which I'd not thrown away. I don't throw away much, as you might have guessed. Alongside that, I chopped up a green pepper and an orange pepper into thin strips. When the pork was sticky enough, I removed it from the pan into a nearby bowl and added the veg into the porky pan and stir fried it a bit just to colour it. I then added the mince back in, gave everything a good stir and cooked a packet of rice noodles in another pan. Giving everything an extra dose of teriyaki and a good squeeze of lime, I then added the noodles into the pork (I wish I had a wok, but woks and electric hobs really don't go, sadly) and let everyone have a good old mingle before plating up. In an ideal world I'd have wanted crushed peanuts, fresh chillies and coriander but seeing as I'd decided to make this 30 minutes before coming home from work, I had to make do with just the lime juice. Oh, the shame.
I ate this in about 36 seconds as I was then out the door for MORE JAZZ.
Friday: Lemony spatchcocked chicken with squished tatties and buttery peas plus apple cake with the cherry sauce from Sunday
Lewis needed to go to Lidl to buy some more beer on Friday, obviously. We also needed some more washing up liquid, and he asked if there was anything else I wanted. My reply was slow and deliberate.
"Mmm. Yes. I would like a chicken please."
"A chicken?"
"A chicken."
The urge to spatchcock had won over all the other possibilities still open to me with the rest of the shopping from Sunday. Yes, I could have made Chorizo and Halloumi burgers. Yes, I could have made pizza florentine. Yes, of course I could have made any other store-cupboard gubbins including salade nicoise, or french onion soup, or whatever. But I wanted a chicken. A lovely, plump chicken to spatchcock with lemon, and herbs and eat into the weekend and make stock from the bones.
And spatchcock I did. I removed the backbone and roasted it alongside the chicken, as detailed in a previous post. And this time, instead of smothering the thing in curry paste, I zested a lemon all over it, sprinkled sage and thyme and rosemary and salt and pepper on both sides, drizzled it with olive oil, slipped some butter under its clammy skin and roasted it for 40 minutes at 190. I also boiled some baby potatoes alongside, and smacked them in with the chicken once they were softish. 5 minutes before the chicken was due to emerge, I zapped a large cereal bowl of peas in the microwave. Then, when the chicken was ready and sizzling, I mixed them with the juices in the roasting tray alongside the now golden tatties. I let this rest for 5-10 minutes while I made sure that poor Lewis didn't have an actual mountain of washing up to do.
There was loads leftover; enough for Lewis and I to eat as lunch the next day up Mount Keen, and then for me to make into:
Saturday: Leftover Chicken, olive and CANNELLINI Bean Stew
We were gonna go to the pub after hauling mountain bikes up Mount Keen, but a sudden attack of weariness hit us and we went home instead. I planned this dinner in the car back, and then assembled it in about 15 minutes. The rest of the time is stewing time, and obviously like a lot of things in life, the longer it is, the better.
What I did was fry off two shallots very gently in butter and olive oil, adding in some thin slices of garlic when everything had softened a bit. I then tore up two anchovies from a jar and added them in, so they sort of dissolve in the oil – I'm a very recent anchovy convert after reading Cook, Eat, Repeat by Nigella. They're cheap and cheerful from a tin, and add an unrivalled richness which isn't even remotely fishy. After that had all softened and mingled, I roughly chopped the rest of the chicken from the day before (it was mostly breast meat as we tend to go for thighs and legs first) and fried that off too, getting some nice colour on it. I added a good squeeze of tomato paste next, plus a tin of chopped tomatoes and a tiny sprinkling of salt and a handful of black olives. Then, I force-fed it some wine, and hopped in the shower, leaving it on a low simmer while I scrubbed mud out of rather unusual places.
After becoming clean, and while still wearing my towel on my head like a big diva, I then slopped in a tin of cannellini beans to heat through without going mushy. Lastly, I stirred through some fresh basil and served it with some pasta scraps and a bread roll just for fun. We had apple cake for pudding, but I can't talk about that here yet because it's going up on another article elsewhere. You'll just have to follow me on twatter for that.
Sunday: Pancakes
Made pancakes for breakfast. We're all bored now so I'll leave it at that, but I used the base recipe from here.
Thanks for getting this far lads! If you want really detailed recipes for anything I cooked out of my brain this week, do ask and you shall receive.